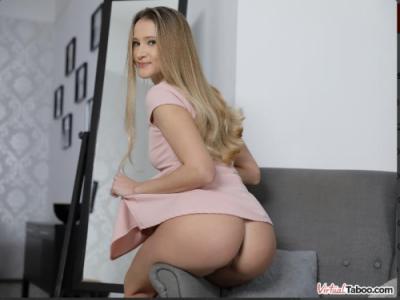 Actress name: Ivi Rein
Video Title: Dress Is Not Needed
Subsite and site: VirtualTaboo.com
Year of production: 2021
Genre: vr, virtual reality, solo, no male, petite, small tits, natural tits, brunette, shaved pussy, masturbation, dress
Duration: 00:10:55
Description: Adorable teen Ivi Rein is very excited. She has had a crush on a guy from college for years and he finally asked her out. Her mother helped her pick out a new dress for the occasion and she is just dying to try it on. Mom is gone, but Ivi decides to show off the dress for her stepfather. She goes into his room where he was just about to settle in for an evening of VR Porn by himself and asks for his opinion on her new outfit. You were already a little turned on by the thought of some hot VR taboo smut and she notices the bulge in your pants while you compliment her and assure her date will love the dress. Hoping to rush her out so you could finish what you started, you get frustrated and turned on as she lifts the dress up to tease you with a view of her legs and cute ass. Feeling bold and a little naughty, she lets the dress ride up a little too high to show you that she isn't wearing any panties. Knowing she has your full attention, Ivi strips the dress off and enjoys the lustful look in her stepfather's eyes. She asks you if you think her date will like her this way as well. You had no words, but rub your throbbing dick through your pants in response. She wonders how long it has been since you have been laid and asks if she can watch you play with your dick. You agree and the sight is so hot that Ivi just has to join you and play with her wet pussy. As she sees you shoot your load on the floor, she cums hard on her fingers and wonders how soon she can get home from her date and fuck daddy properly.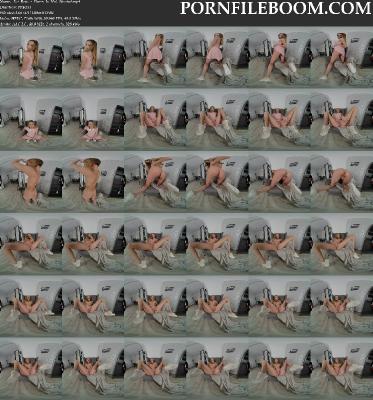 HD video type: 3630p
Device type (for VR video): Oculus Rift / Vive
3D Type (for 3D video): SideBySide
Video format: MP4
Video: HVC1 7260×3630 59.94fps 39978kbps [V: hevc main 10 L6.1, yuv420p10le, 7260×3630, 39978 kb / s]
Audio: AAC 48000Hz stereo 327kbps [A: SoundHandler (aac lc, 48000 Hz, stereo, 327 kb / s)]